Responsibility
We have been working for more than half a century for a functional and sustainable everyday life. Our purposeful work has always been to look ahead, set goals and enable development. Responsibility is close to the heart of our work: we want to be a good employer for our employees, produce responsible products and work with responsible partners, set a good example at the local level and take care of our environment.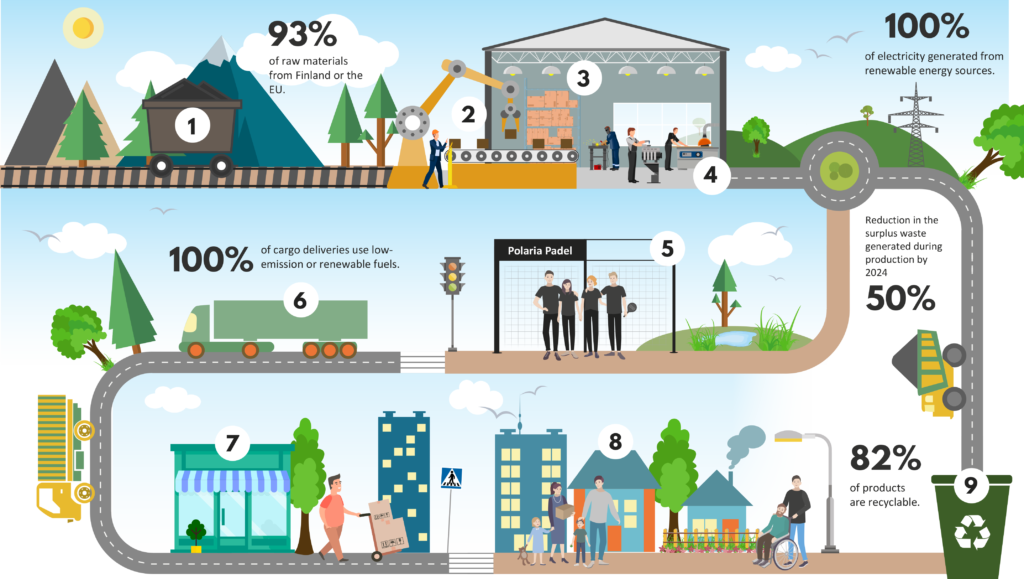 1. RAW MATERIAL: Steel is the main raw material in our products. Its durability enables us to promise our customers a lifetime product that is highly recyclable: the majority of our products' raw materials can be recycled after use. We are continually monitoring efforts to reduce carbon dioxide emissions in the steel industry, and are actively introducing more emission-free innovations and raw materials.
2. RESPONSIBLE PROCUREMENT: Supply chain transparency is important to us. We want to know who we are doing business with and where the raw materials for our products come from. We demand high quality and sustainable business practices from both ourselves and our partners. We make our procurements as close to home as possible: from Finland, neighbouring countries, the EU and – only as a last resort – elsewhere.
3. DOMESTIC PRODUCTION: Polaria's factory was established in 1970 and has now been operating in Mäntyharju, South Savo for more than 50 years. Together with the other companies in the Veisto Group, we are the largest employer in the region. For us, responsibility means caring for our employees, respecting the environment in our production processes, and supporting the local community. Since the turn of the millennium, we have made considerable investments in our production processes to promote sustainability, and we now have efficient, modern and environmentally friendly machinery and equipment.

4. MOTIVATED PERSONNEL: We offer meaningful and inspiring tasks, and aim to train multi-skilled professionals. Creating a good workplace atmosphere is everyone's responsibility. Polaria is committed to developing a variety of incentives to increase employee satisfaction. Long-lasting employment contracts are both a matter of honour for us and an indication of our personnel's commitment and motivation.

5. STRONG LOCAL ROOTS: We work hard to create a sense of community. We want to increase the wellbeing and appeal of South Savo, and support recreational opportunities in the area and its environment. We cooperate with educational institutions and seek to be a desirable local employer.

6. CARBON-NEUTRAL TRANSPORT: More than 400 deliveries leave our factory every month for destinations all across Finland and Sweden. Our logistics partner, Posti, has guaranteed us completely carbon-neutral transport. Our products are always sent in full units whenever possible..
7. A RELIABLE OPERATOR: Our customer base includes retailers, construction firms, designers, developers and – ultimately – residents. Our goal is to run a smooth, reliable and efficient business for the benefit of our customers, partners and society. We invest in long-term partnerships that benefit all parties. We work hard to ensure that our products are chosen for people's homes and last a lifetime.

8. MADE FOR LIFE: Our product portfolio takes all kinds of customers into account. Our products are designed for life, so we give our steel products a ten-year warranty. We believe that everyone is entitled to an accessible bathroom. Which is why we are also proud of our products designed for accessible homes.

9. A NEW LIFE FOR STEEL: Steel has become our main raw material by virtue of its durability and functionality. At the end of its lifecycle, it is also completely recyclable. Our factory produces extremely little waste steel (8%), and we recycle all waste in the appropriately manner. We also encourage everyone else to recycle Polaria bathroom cabinets when they reach the end of their lifecycles, so that the steel can be given a new life in some other form.